and a lot more articles in French : to be translated soon...
AOVB : « Association des étudiants en Œnologie et en Viticulture de Bourgogne » Tasting notes 2016-03-21
Clairette du Languedoc 2013:
Eye : golden yellow, golden highlights, limpid.
Nose: Pear, cinnamon, light and pleasant hints of oxidation : gingerbread, honey and wax.
Palate : generous, unctuous with the same overtones of gingerbread and honey.

January - February 2016
The selection of wines by l'Epicurien magazine. In each AOC, one estate and its wine-grower.
Domaine La Croix Chaptal "Charles" 2010
At first, in the nose, this fine and aromatic wine combines very ripe red berries, wild berries and soft spices as well as vanilla. Fruity overtones prevail, backed up by the oaky aromas resulting from a well-mastered ageing process, and encompass delicate tannins which emphasize a silky finish.
Le Secret de Gellone at Top 100

One of the 19 Trophies

Jury Chairman Tim Atkin, MW

Domaine La Croix Chaptal – Cuvée Charles – 2010
Standard / by Blind Taste 34 / 28 janvier 2016 / No Comments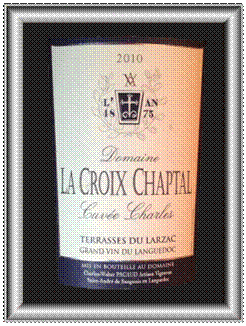 Domaine, cuvée, millésime :
Domaine La Croix Chaptal – Cuvée Charles – 2010
Région d'appellation : Languedoc – Terrasses du Larzac
Cépages : Syrah – Grenache – Mourvèdre – Carignan
Prix : 15 €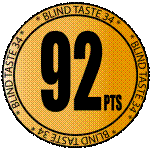 Tasting notes :

=


=

+

+

+


=

+

+

+
Titof's comments:
St Benoît d'Aniane was keen on carrying out his mission. Ten years after founding an abbey on the banks of the Herault river, he obtained the utmost recognition from Charlemagne, i.e. the abbey became a royal abbey.Encouraged by this newly-acquired fame, he set out on a journey to spread and enforce the Benedictine law in the South of France.
A crimson dawn prevails at first then the early morning dew exhales a bouquet of blackcurrant, mocha, fresh spices and vanilla.
In the mouth, the generous and velvety beginning with very ripe black fruit provides a great sensation of strength and voluptuousness. While the spices derived from the wood sharpen the nectar, the eucalyptus brings notes of peppery freshness which round off a perfectly tasty mouthfeel.
This cuvée is an outstanding tribute to Languedoc vineyards and wineries.
Bonus: Although the estate was blessed in 1875, it unfortunately did not avoid Phylloxera which devastated Languedoc vineyards during that decade
Blind Tasted 2015 12 02
Domaine La Croix Chaptal –Clairette Blanche – 2013
Standard / by Blind Taste 34 / 2 décembre 2015 / No Comments
Domaine, cuvée, millésime :
Domaine La Croix Chaptal – CLAIRETTE BLANCHE – 2013
Région d'appellation : Languedoc –
Clairette du Languedoc
Cépages : Clairette
Prix : 10 €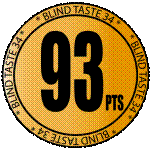 Tasting notes :

=


=

+
+


=

+

+
Titof's comments:
Hippocrates took very specific care of his beehives. The famous Greek doctor was aware of the therapeutic benefits of honey. While the bees strove to gather the pollen, nectar and water that are vital to the survival of the swarm, he made sure that the production was good, quality-wise.
The colour of the wine is pale gold. Its bouquet is impressively rich. Pollen, candied lemon and mimosa fill this elixir with scent and sunlight. The first mouthfeel which offers white peach and soft almond is amazing. This slightly iodized, well-balanced and silky nectar carpets your taste buds before lingering towards a delicately aniseed-flavoured finish.
This Clairette du Languedoc is a genuine success


This Domaine La Croix Chaptal Secrete de Gellone 2012:
This is a domaine whose history is conveyed through the names of its cuvées recounting the religious past of viticulture in Languedoc.Déodat de Séverat, a monk from Gellone Abbey in St Guilhem-le-Désert, founded the domaine in the Xth century. Notes of bayleaf, a slight hint of spices , intense in the mouth with the elegance granted by the freshness and length of its tannins.
The Kitchen - Wine of the Week - Les Terrasses 2009 Terrasses du Larzac –
This 2009 red wine "Les Terrasses" from Domaine La Croix Chaptal is a perfect example of the excellent quality wines you can buy for less than $20 per bottle.
The Languedoc is the source of some of the best value, good quality wines. Once regarded as a source of poor quality bulk wine, the Languedoc wine industry has truly been revolutionized.
While I have long been a fan of Languedoc wine, it was really last summer when we spent three weeks in the region that I really grasped the impact of the quality revolution. This red wine is no exception. It is bright and refreshing with crisp acidity. Its crunchy, suede-like tannins frame the bounty of fruity flavors that explodes on the palate: blackberry, cassis, wild raspberry and bramble fruit. The texture is plump and the wine has a generous mouthfeel. But this wine is not just about the fruit; it has a distinct minerality which prevails across the palate and savory, wild herb and juniper notes that add complexity and a long, lingering finish.
At the Table
When tasting this wine, my mind immediately imagined a dish of braised wild boar, something hearty and warming to complement the wild side of the wine. If wild boar is not your thing try beef or lamb, or for the more adventurous readers, why not pair it with Faith's recipe for Braised Goat Shanks with Prune, Shallot and Brandy Reduction. A truly delicious combination!
Mary Gorman-McAdams, MW (Master of Wine)

Witiza 2009 Terrasses du Larzac – Favorite Wines
This wine is outstanding! Charles-Walter Pacaud has been exploring the potential of his vineyard for more than ten years. His wines have quickly won over the amateurs of refinement; however, this time he plays on the stage of the great. This Witiza 2009 (25 €), in Coteaux du Languedoc Terrasses du Larzac, is an exception. The wine-grower explains that « It combines the fullness of Languedoc and the freshness of Terrasses ». Out goes the bounty of red berries; in the nose, right away this wine asserts itself as oriental with sandalwood, camphor, eucalyptus and white pepper. On the palate, you will recognize fine fruity flavours and above all extremely refined tannins that are chiselled and crunchy. Freshness prevails in the long, lingering finish. Mourvèdre, Syrah, Grenache and Carignan on rounded stones and gravel, a 20-hectolitre per hectare yield, a selected harvest, a long vinification in tanks and a thirty-month ageing period, including twelve to twenty-four months in barrels depending on varieties. This exceptional cuvée pays tribute to St Benoît d'Aniane (Witiza) who, in 782, allowed Benedictine abbeys to plant vines and to drink wine during meals, thus shaping the Languedoc vineyard. Indeed, right from the 5th century La Croix Chaptal estate belonged to Gellone Abbey in Saint-Guilhem-le-Désert.

CLAIRETTE DU LANGUEDOC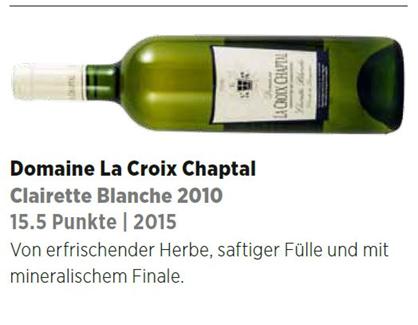 TERRASSES DU LARZAC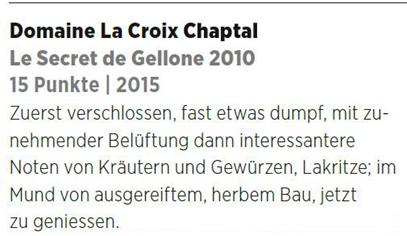 Grands Crus du Languedoc
| | |
| --- | --- |
| | Specific, terroir-wines of individual character, representative of their site. |
| | Icon wines that should stand out with the rest of the world. |
| | Comprises nine (so far) locations: Corbières Boutenac, Minervois la Livinière, Saint Chinian Roquebrun, Saint Chinian Berlou, white Limoux and posh cuvees of sparkling Limoux. Plus five locations which are on the verge of independent AC status: Terrasses du Larzac, Grès de Montpellier, Pic Saint Loup, Pézenas, and La Clape. |
The new system has yet to be approved by INAO, which is necessary for it all to become proper, but the CIVL hope everything will be in place by the end of this year. At the moment these terms are not on the label, so this is not yet something simple and useful for consumers.
Disappointingly, it seems that very few of these wines are available for retail in the UK.
My top 30 tasting notes, London, April 2011
Domaine La Croix Chaptal

, Cuvée Charles 2007, Languedoc Terrasses du Larzac


30% grenache, 40% carignan, 30% syrah
UK importer: Aldeby Wines
Smoked meats, biltong and barbecued steaks. Big, hulking meatiness, and no less interesting for that. Balanced, and with smoked dark berry fruits there too."

Wine Compass Blog
This is the blog for Wine-Compass.com. Friday, April 15, 2011
"The Ambassador Tour was comprised of 31 wines selected in a blind tasting by American panellists from over 120 wines submitted. Most of the wines should retail between $15 and $25, although there were a few higher end wines that were priced closer to Grand Cru Bordeaux. And almost all the wines were made from hand picked grapes, grown in small lots, using organic farming practices, and by family estates that span generations.
The best part of the tasting was listening to the winemakers or their representatives discuss their passion for wines made in the region. The region's history, the AOCs, the grapes, food pairings - all contributed to fabulous discussions.
The region's popular wine grape, Carignan, has the second largest planting in France.

Can you guess the first?

The traditional method of sparkling wine production, "méthode champenoise", where the bubbles are produced by a second fermentation in the bottles, may have originated in Limoux before it was utilized in Champagne.

The vines used by the

Domaine la Croix Chaptal

, a small winery in the Terrasses du Larzac - an AOC, have been tended by Monks for over 12 centuries. The vines were ravished by the Phylloxera epidemic almost 150 years ago; thank God for American rootstock. The present owners restored the original cellar from the Abbey and are now making very good wine - as evident by the Les Terrasses Rouge and Cuvee Charles - each differing blends of Grenache, Syrah, and Carignan.
Languedoc is located in the south of France adjacent to the Mediterranean sea. Wine has been produced in the region for two and a half millennia - starting with the Greeks, then the Phoenicians and Romans. In fact, the Roman historian Titus Livius was lauding "wines of light" from Limoux two thousand years ago. And sparkling wines from Limoux were the first wines we had tasting from the region. Based on the Mauzac grape, these are some of the best sparklers we have ever tasted. Getting back to Languedoc, the region is divided into many AOCs, with almost a dozen represented on the Ambassador Tour. And as expected, the wines differ by AOC because of terrior and the grapes planted. Besides some indigenous grapes, the most popular grape varieties are Rhone varieties: Syrah, Cinsault, Carignan, Grenache, and Mourvedre for reds and Rousanne, Grenache Blamc, Marsanne, and Muscat for whites. Not too surpising since Languedoc and Rhone border each other."

The Latest News : (January 21st 2011)
For the second year in a row, Domaine La Croix Chaptal is selected as one of the top 30 Languedoc Wines on the USA market thanks to its cuvée "Les Terrasses 2007" - AOC Terrasses du Larzac - Languedoc !!!

The selection tasting of the Languedoc Wine Ambassadors Tour was held in New York on January 10th and 11th, 2011 with a jury consisting in 3 American wine specialists :
Claire Defoe, manager of Sherry-Lehmann, one of the most important wine retailers in New York . She was quoted by the New York Times for her analyses of consumer trends .
Robert Whitley, wine journalist , writes in the weekly Wine Talk, published nationally. He is also the editor of Wine review online and write once a month in the column Vine talk of Reuters.
Lora Zarubin is the chief editor of the Wne & Gastronomy of the Los Angeles Times. She has also written cook books and opened a restaurant in New York in 1992.

And good news to start the New Year :
Tasting notes from Peter K Wong - Best sommelier from Hong Kong - January 2010 : Cuvée Charles 2005 :

"Aromas of grilled pepper, ripe tannins, a silky well-structured and very balanced wine. The best I have tasted from the South of France. It has tinges od the Lafite Rotschild style".

Hannoversche Allgemeine Zeitung 04-09-2010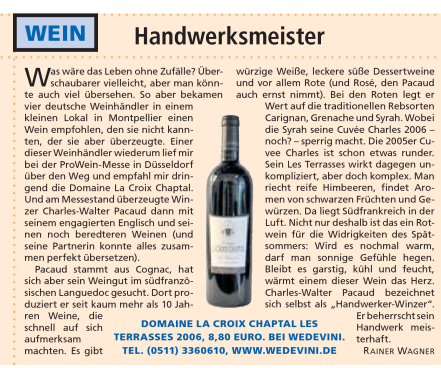 Good news to end the year :
La Gazette de Montpellier 24/12/2009 : Dominique Laporte, the best sommelier in France, has selected la Croix Chaptal as one of the 50 best wines in Languedoc-Roussillon :
Domaine La Croix Chaptal
Here we are again on the Aniane terroir. Rounded stones and pebbles dominate on a poor and deep clayey limestone soil which is naturally well drained and windswept by the mistral and tramontane.
The wines from La Croix Chaptal ( interesting name for a wine, don't you think ?) are listed in all the great guides and praised by wine critics ; indeed they deserve this praise. If I were you, I would try the cuvée " Les Origines " ( Coteaux du Languedoc) which, according to the vintage, is based upon one of the three varieties : Carignan, Grenache, or Syrah.
Domaine La Croix Chaptal Cambous 34725 St André de Sangonis 04 67 16 09 36. www.lacroixchaptal.com

Enjoy the Languedoc - it won't be here forever, from Andrew Jefford : Decanter January 2009 (pg 21)
"...Geologically, the Languedoc hills are a synopsis of everything which makes France so propitious for winegrowing... Surely in any other country, those Languedoc hills would have been a star region; their misfortune was to find themselves sharing a nation with Champagne, Bordeaux, Burgundy, the Loire and the Rhône. And too far from Paris.
But where is the best spot in the Languedoc ? My theory is that Terrasses du Larzac is the greatest spot in the Languedoc... Stone and slopes alone don't make for great wine - as much of Provence proves - but when skilled winegrowers grapple intelligently and sensitively with nature here, the results seem to me to have the same aromatic, textural potential as the best of the Rhône..."

Wine Spectator of January 2009 : SAVVY SHOPPER
Strategies to help you choose the best wines in 2009 - TOP VALUES :
Domaine La Croix Chaptal "Cuvée Charles" 2005 = 90/100 : $20
Domaine La Croix Chaptal "Les Terrasses" 2005 = 88/100 : $15

Three stars in the September issue of DECANTER
Domaine La Croix Chaptal - Terrasses du Larzac - Cuvée Charles 2005 : 15,33/20
"Robust black-cherry nose. Ripe and oaky. Rich, supple, juicy with robust tannins. Not a lot of character but a good mouthful. From 2008"

Two acknowledgements for our two most representative wines :
The Savvy Shopper : Languedoc
The Coteaux du Languedoc Cuvée Charles 2005 (90, $20) from Domaine La Croix Chaptal is firm and powerful, oozing with dark cherry and dried herb notes flanked by mocha and spice.

La Revue du Vin de France : Millésime 2007 (Vintage) - pg 180
Domaine La Croix Chaptal Clairette du Languedoc - Clairette Blanche : 17,5/20
"Rare cuvée made from 100% Clairette : full-bodied and elegant structure, handsome, straightforward and ripe texture, full of freshness, lengthy in the mouth with a spicy final touch, caraway and fennel"
Terre de vins mars-avril-mai 2008 n°38
« LA CROIX CHAPTAL , CHAPEAU BAS ! " = "LA CROIX CHAPTAL , WELL DONE !
"Charles-Walter Pacaud, who was born in Cognac, discovered the Languedoc area during his course of study at the Engineer School of Agronomics in Montpellier. He then roved about the world of wine from England to Listel, worked in Napa Valley and Provence before settling in the hamlet of Cambous in 1999. He little by little decided he could completely place his confidence in this superb terroir by working on the soil, falling in love with carignan and interfering in vinifications in the slightest possible way. That explains why the two cuvees that were presented to our jury , are inevitably anchored in the terroir. They both won our unanimous support and place this 18-hectare estate among the best in the appellation.
The cuvee Les Terrasses 2005 (17 out of 20; 7.70€), made of grenache and carignan with a touch of syrah is a full-bodied, rich and noble wine. That is true for the nose which is intense, complex, ripe, blending aromas of candied fruit (cherry, raspberry), "garrigue", dried fig and nutmeg. The mouth is in keeping with the above: mellow, well-defined, fresh with mineral touches at the end.
We also find the same terroir character in the cuvée Les Origines – Seigneurie de Cambous, AOC Terrasses du Larzac 2005 (18 out of 20 ;18€), all in praise of the carignan variety , with its bewitching nose blending aromas of earth, redcurrant, tobacco, undergrowth and soft spices. The full-bodied, tasty, silky texture in the mouth is outstandingly harmonious and lends itself to many different gourmet combinations".
Press review July 2007.
A wealth of articles over this first semester (non-exhaustive list):
Clairette du Languedoc 2005 and Cuvée Charles 2004 are praised again in :
- the 2007 Hubert guide, page 292, with 4 glasses for each of these 2 wines:
• "Cuvée Charles 2004: a peppery nose with tinges of leather and toast. In the mouth, it is dense and the tannins can still be perceived with a very spicy final note."
• "Clairette 2005: a smoky nose with tinges of ripe fruit and oriental spices; the mouth is in the same vein, with great notes of dried fruit."
The Domaine is also praised in Michel Smith's book page 171, in the column "evolving Grands Crus: the promising ones and the forgotten ones…"
"Here is an actually soaring Domaine from which we are expecting significant progress before we can speak of great wines. In 2000, the Cuvée Charles is impressive through its tannins, length in the mouth and its tinges of "garrigue". As for a white wine, there is also the Clairettte du Languedoc, one of the oldest varieties and one of the earliest appellations in the area."
The Seigneurie de Cambous 2004 is also mentioned in the Républicain Lorrain :
"In the nose, this wine sends out its aromas of candied small red fruit with a few tinges of spices and garrigue. The mouth is well-structured, smooth and full with fine tannins. A wine that should still be kept."
A harvest of articles on our Rosé Coteaux du Languedoc 2006 and 2005 in this month of July!
- in the July issue of La Revue du Vin de France it is awarded a mark of 16 out of 20 and named "great wine": "a fine Rosé, brightly-coloured, fresh and sprightly! Strong character."
- a very praising article in " la Revue Nationale de la Chasse ( the National magazine for hunting) :
"In the stone cellar of Domaine la Croix Chaptal built not far from the vineyard in 1875, the game from a great hunting party could well be kept fresh for a few days.
Charles Pacaud merely chooses to let his Rosé age a little longer than that of his colleagues. Thus it is this extra time which gives his wines the brightly-coloured robe which reminds us of claret.
Its nose is leaning towards wood and spices on a background of red fruit. It is full-bodied and fleshy as well as very smooth and fresh. Goes well with a game couscous."

- the Rosé Coteaux du Languedoc 2005 is again praised in the July issue of
le Chasseur Français ( the French Hunter)
"Its elegant and rich fruit recalls that of a red wine but its freshness in the mouth is indeed that of a rosé. It is really delicious along with a ratatouille, with or without meat."
- The Rosé is also mentioned in the issue n°66 of Tentation Magazine:
"An astonishing Coteaux du Languedoc 2005 whose slightly dark robe is rather far from the usual concept of a rosé.
Nevertheless, in the mouth it is fleshy and can go well with a spicy meal ( and above all with North African cuisine)."
· Out Déodat de Séverat 2004 is praised in Terre De Vin n°30, p 18:
"Charles Pacaud's estate goes a step further with "Les Origines", a new ambitious range of three "cuvées", each one with one of the three following varieties : Carignan, Grenache or Syrah as its main basis. This Coteaux du Languedoc 2004 (17,50 €) pays tribute to Déodat de Séverat, a monk from Gellone Abbey who created the vineyard of the estate of Cambous in the early Xth century. In this wine, the Syrah variety prevails supported by a touch of Grenache and Carignan. Its nose is toasted and full of ripe wild black berries and elderberry. In the mouth, touches of blackberry jam, of prune, of thyme and ash prevail. This is a powerful, fleshy, concentrated wine but it remains fresh and full-bodied with a long-lasting mint-flavoured final touch."
Last Press Release from "Wine Reviews & Rant" - Australia : 92 points to La Croix Chaptal - Seigneurie de Cambous 2001
"The vineyard is mainly old vines planted near Cambous about 45 minutes west of Montpellier. It is mainly Carignan with a bit of Grenache and Syrah. The nose was still closed, but had a bit of cinnamon spice and licorice. The same tones were in the wine along with an almost thick structure of fine tannins. No fruit sweetness, but still a bit dark red fruits and spicy overtones. The wine was made to "express the unique terroir of Cambous as it must have been in the 10th century when owned by the monks of Gellone Abbey". This is one of the best Languedoc wines I have tasted."
Tasting scores : 90-100 = very fine, extraordinary, 80-89 = very good, 70-79 = solid, 60-69 = faults are not obvious.
TERRE DE VINS, March-April-May 2004 issue
Two wines out of two!
Cuvée Charles 2001 : 14/20 An appetizing purple colour then a powerful nose of stewed red fruit ; a clean first taste then a superb structure with hints of licorice and toast characterize this gastronomical cuvée.
Seigneurie de Cambous 2001 : 15/20 This cuvée shows a beautiful and very deep purple colour. Its mint-flavoured palate is fresh to perfection and blends together stewed red fruit made spicier by a tinge of Havana. It starts boldly, its structure is elegant, its finishing touch on the chocolate side. Our wine-tasters have noted a very cleverly managed vinification.
TERRE DE VINS n°15, June, July and August 2002 issue
in the article entitled : Rosés : the choice of …cellarmen, the Domaine La Croix Chaptal Rosé 2001 attracted the tasters' attention and was commented upon as follows:
« Although Charles Pacaud has only recently acquired a vineyard, he is already very experienced in wine-making. This is the reason for his clear choices and his thorough work. With this wine, he says, I wanted to revive the tradition, this rosé is full-bodied & round and, when drunk young, goes very well with pork meat and poultry. After one or two years of ageing, it will complement fish dishes and paella". There is no better definition for this blend of syrah and grenache, partly vinified in new oak barrels, ropy and fresh with blackberry and sweet spices aromas."
TERRE DE VINS n° 12 from the last term of 2001
The Domaine La Croix Chaptal Cuvée Charles is described as follows under the heading " Nouvelles Cuveés".
« Charles Pacaud is well-known in the world of wine for having pursued a successful career within the company Listel – Val d'Orbieu. He is also one of the very few French wine-makers to have attended the British course "Master of Wine", a "must" as regards the knowledge of wines and tasting. Therefore, his Cuvée Charles is quite meaningful for experienced wine tasters. This wine is made of a blend of syrah, carignan and grenache varieties harvested from old vines growing on rounded stones and pebbles and displays a deep red robe, aromas of humus, undergrowth, red-fruit jam, a slightly grilled touch and an elegant soft mouth. »
Average yield limited to 35hl/ha, a five-week "cuvaison", a nine and a half-month ageing period in oak barrels: it is quite obvious that this new wine-maker enjoys himself. This wine which should be kept for a gastronomic table will be marvellous with water game".
TERRE DE VINS n°6, June-July 2000 issue
under the heading
«Our 56 best rosés of the summer », the Domaine La Croix Chaptal Rosé was marked out among the 140 rosés tasted and was described as follows :
« Its tint is rosé, it is enhanced by a slight brightness. Its nose is strong on the red fruit side and with a slight alcohol character. It is not complex in the mouth, however it is well-balanced. Taken as a whole, it is a little rustic but has character. »
REVUE DES VINS DE FRANCE of June 2004
Cuvée Charles 2003 is mentioned under the heading "The selection we have liked" : it has some volume and momentum and no coarseness in the juice : indeed it is dense and charming.
REVUE DES VINS DE FRANCE of November 2003
In the November issue of Revue des Vins de France, our Clairette ranks among the 183 best Languedoc wines: a pale but deep colour, a spicy and fruity nose, a straight and elegant mouth well-balanced in acidity, a persistent and harmonious lingering finish.
REVUE DES VINS DE FRANCE of June 2003
REVUE DES VINS DE FRANCE of June 2002
The three wines the Domaine had sent have drawn the tasters' attention and are described as follows under the headline : « we like very much » :
Seigneurie de Cambous: « concentrated, compact, smooth, this drastic selection of carignan (80%) vinified with care in oak casks is rich and expressive.»
Cuvée Charles: « As successful as the above, this cuvée is finer and fresher »
Clairette du Languedoc: « This is the most balanced and full-bodied cuvée of this vintage year. This Domaine has reached such a level quality – wise in the appellation that it cannot be overlooked.»
REVUE DES VINS DE FRANCE of November 2002
REVUE DES VINS DE FRANCE of March 2001
singled out the Domaine La Croix Chaptal Rouge Cuvée Charles AOC Coteaux du Languedoc « Terrasses du Larzac » and described it thus :
« A rather deep red robe, this wine holds well in the mouth, it is full-bodied although a little more depth is wanting, average red and black fruit aromas. »
REVUE DES VINS DE FRANCE of June 2000
singled out the Domaine La Croix Chaptal and its Clairette under the heading AOC Clairette du Languedoc and described it thus :
« A powerful, very mature and honey-scented nose and a rich, round and powerful mouth combine to single out this wine with character. »
HORECA NEWS of August 2003
HORECA NEWS of February 2003
VITI magazine of November 2001
praises Domaine La Croix Chaptal in an article laid out on ¾ of a page:
« A WINE, AN EXAMPLE »" LA CROIX CHAPTAL COTEAUX DU LANGUEDOC ROUGE 1999"
« A master-stroke for a first vinification » »
«…Since the wine-grower Charles-Walter Pacaud settled there, the 18- hectare vineyard of Domaine La Croix Chaptal has been devoted to the production of wines expressing the unique character of the "terroir" – For the first vinification, this red coteaux du Languedoc is indeed typical of this policy…"
DECANTER of march 2003
a retenu le Domaine La Croix Chaptal Cuvée Charles 2000 *** dans la rubrique « Languedoc Styles »
Ripe, almost jammy fruit, note of kirsch. Full fruit on the palate, firm finish. 3-5 years.
NECTARS & SAVEURS of June 2004
Swiss magazine Nectars et Saveurs of June 2004 says it has particularly appreciated :
Clairette du Languedoc "Vieilles Vignes" : superb, golden yellow and bright colour. Citrus fruit and south of France kind of scent in the nose as well as white peach and fennel. It is very fresh in the mouth and also smooth with a great lingering finish.
Rouge Domaine : an intense almost ruby red. A nose made of spices, undergrowth, earth, humus and red fruit with a touch of toasted coffee. It is very complex in the mouth.
Cuvée Charles : a great Languedoc that you should not forget to buy …